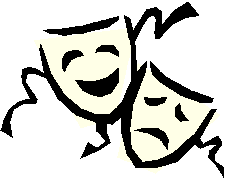 Light Notes
Two robins were sitting in a tree. "I'm really hungry," said the first one. "Me, too" said the second. "Let's fly down and find some lunch."


They flew to the ground and found a nice plot of plowed ground full of worms. They ate and ate and ate and ate 'til they could eat no more. "I'm so full I don't think I can fly back up to the tree," said the first one. "Me neither. Let's just lie here and bask in the warm sun," said the second. "O.K." said the first.


They plopped down, basking in the sun. No sooner had they fallen asleep, than a big fat tom cat snuck up and gobbled them up. As he sat washing his face after his meal, he thought, "I love baskin' robins."
---
A ten-year old, under the tutelage of her grandmother, was becoming quite knowledgeable about the Bible. Then one day she floored her grandmother by asking, "Which Virgin was the mother of Jesus? The virgin Mary or the King James Virgin?"
---
I didn't know if my granddaughter had learned her colors yet, so I decided to test her. I would point out something and ask what color it was. She would tell me, and always she was correct. But it was fun for me, so I continued. At last she headed for the door, saying sagely, "Grandma, I think you should try to figure out some of these yourself!"
---
Before marriage, a man yearns for the woman he loves; after marriage, the "y" becomes silent.
---
The honeymoon is over when the husband calls home to say he'll be late for dinner and the answering machine says it's in the microwave.

Return to Care Capsule Front Page