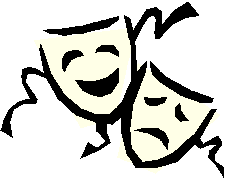 Light Notes
Marriage Seminar
While attending a Marriage Seminar dealing with communication, Tom and his wife Grace listened as the instructor said, "It is essential that husbands and wives know the things that are important to each other." He addressed the man, saying, "Can you describe your wife's favorite flower?" Tom leaned over, touched his wife's arm gently and whispered, "It's Pillsbury, isn't it?"
Mother, as seen by kids
What ingredients are mothers made of?
God makes mothers out of clouds and angel hair and everything nice in the world and one dab of mean.
They had to get their start from men's bones. Then they mostly use string. I think.
Why did your mom marry your dad?
My dad makes the best spaghetti in the world. and my mom eats a lot.
She got too old to do anything else with him.
My grandma says that mom didn't have her thinking cap on.
Who's the boss at your house?
Mom doesn't want to be boss, but she has to because Dad is such a goofball.
Mom. You can tell by room inspection. She sees the stuff under the bed.
I guess Mom is, but only because she has a lot more to do than Dad.
What's the difference between moms and dads?
Moms work at work and work at home, and dads just work at work.
Moms know how to talk to teachers without scaring them.
Dads are taller and stronger, but moms have all the real power because that's who you have to ask if you want to sleep over at your friend's.

Return to Care Capsule Front Page