What is there in life that makes us happier people?
Researchers in recent years have carefully explored the happiness challenge and the answers they found to the question above conclude that it is not money we need. No, after basic needs are met, more money does little for happiness.
The same is true of education, I.Q. or youthfulness (older people are measurably happier). Sunny days add little or nothing. Lottery winners do not find exceptional happiness.
On the other hand religious faith, friends, and marriage all seem positive in raising our happiness levels. Children and grandchildren are happiness boosters, too.
One amazing discovery claims that 50% of our satisfaction in life is inherited; that is, it is genetic—we are born with it. The other half, then, is circumstantial— connected to and resulting from what we come in contact with; it enters from life's circumstances.
The primary knock downs that erode or take away our happiness are the loss or death of a child or one's marriage partner. Job losses have high adversity numbers, also.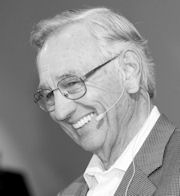 Dr. James R. Kok has written a definitive resource detailing the key essentials in becoming a more caring person in his latest book, "The Miracle of Kindness" (available on Amazon.com, in either paperback or Kindle edition.) A handful of basic tools —wrapped in courage—are the secret to changing the world through intentional acts of kindness.
As the Koach Of Kare, Dr. Kok has been a pastor at the Crystal Cathedral for the past 29 years and heads the Care Ministry department of the church. He is the author of six books and numerous articles, and he is the founder of the Conference on Care and Kindness.