I love garbage. Give me a rotten potato, a soft tomato, orange peelings, old newspapers, used paper napkins, rhubarb leaves, tree leaves, apple cores and egg shells, and you will make me very happy.
I love to take that garbage and put it in my compost pile. Then I enjoy the fantastic transformation that takes place within weeks or months as the garbage turns into beautiful, rich, black, dirt-like substance. That precious loam makes plants grow and vegetables thrive in the garden. Worthless garbage turns into valuable gold.
That's the way God wants us to live in this world. He wants us to recycle our garbage into worthwhile substance. And that is what Scripture promises in Romans 5:3: "Not only so, but we also glory in our sufferings, because we know that suffering produces perseverance". The suffering process can lead to hope.
The most distressing events and happenings in our lives can produce an outlook in our hearts and minds that is strongly positive. Hope is an outlook that there is good and love and happiness ahead. In other words, with the Lord's loving presence, disappointments and heartbreaks can end up making us healthier, wiser and even more deeply happy. Jesus wants us to take the painful stuff of life, the junk that we would consider disposable garbage, those unwanted events, breakdowns, disappointments and heartaches, and make something good out of it. Much can be salvaged and produced from the bad stuff of life. Great depth and beauty can follow tragedy and heartbreak.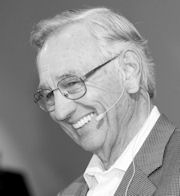 Dr. James R. Kok has written a definitive resource detailing the key essentials in becoming a more caring person in his latest book, "The Miracle of Kindness" (available on Amazon.com, in either paperback or Kindle edition.) A handful of basic tools —wrapped in courage—are the secret to changing the world through intentional acts of kindness.
As the Koach Of Kare, Dr. Kok has been a pastor at the Crystal Cathedral for the past 28 years and heads the Care Ministry department of the church. He is the author of six books and numerous articles, and he is the founder of the Conference on Care and Kindness.