Loss is an inevitable part of life. Every loss hurts. Seldom does one occur without pain and unhappiness. They all change our lives and take time to heal. When moms, dads, brothers, sisters, husbands and wives, or friends leave us, the cost to us is heavy.
It is not wise to compare one death to another or to try to rank them on a scale of which is most difficult. For one thing they all are different, the one from another. Also no one knows how deeply hurt or how much sad circumstances affect the survivor. The death of a brother may be more devastating to one than the death of a mother. Grief is hard; we should avoid comparisons.
There is one exception to this rule—the death of one's child is in a league by itself.
When Shauna Stuewe, a beautiful, athletic teenager died five years ago on Valentines Day, something awakened in me that is not likely to change. An articulate young Christian cheerleader, she slipped to the floor in the practice gym and could not be revived. What awakened in me as I spent time with her family was the realization that such a death stands alone on the scale of heartbreak.
I have been close to a couple of handfuls of other such tragedies where children had died—car accidents, suicide, drunk drivers, even murder by a father. All were tragic beyond words. But Shauna's death, for some reason, opened my eyes. I regret now that I didn't realize years ago the enormity of the death of one's child. Not that I was inappropriate as a Pastor, but I see now so much more clearly that those deaths were so much more tragic than I realized. I should have been more personally devastated, and could have been more sympathetic and empathetic. I am deeply apologetic.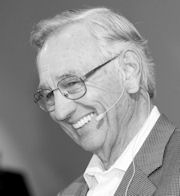 Dr. James R. Kok has written a definitive resource detailing the key essentials in becoming a more caring person in his latest book, "The Miracle of Kindness" (available on Amazon.com, in either paperback or Kindle edition.) A handful of basic tools —wrapped in courage—are the secret to changing the world through intentional acts of kindness.
As the Koach Of Kare, Dr. Kok has been a pastor at the
Crystal Cathedral for the past 28 years and heads the Care Ministry department of the church. He is the author of six books and numerous articles, and he is the founder of the
Conference on Care and Kindness.