Everyone has two ears. You can see them (if they're not covered by hair). They are standard equipment. But do you have a third ear? If you do, it's not on the tip of your nose. It's not on your chin. It can be anywhere! But, it is important that you have one. Here's why:
Injured and distressed folks need to receive care and compassion. They need a touch of loving-kindness and then a listening ear as they talk about what happened and how it is with them. That's your normal two ears. More than anything else, these folks need to tell the story of what happened. They usually need to tell it a number of times. Such talking is a natural way of letting the reality sink in and become real and then manageable.
Losing a wallet or breaking a finger may not qualify as major losses or injuries, but even such minor incidents get better by talking them out to a caring and compassionate friend.
If I tell you I lost my wallet, what is the first thing you think of? Probably you wonder how it happened or how much cash was lost in the process.
If I tell you I broke my finger, where does your mind go with that? With most people, the first thought is a memory when they or someone else smashed that part of their body. That is the way our minds work. Show me or tell me something and it carries me directly into a similar circumstance in my own memory.
Unfortunately, what we think of first—that which immediately comes into our minds—is also what provokes a memory and that writes the script for what we will say: "You lost your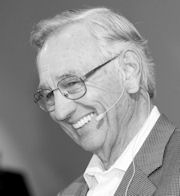 Dr. James R. Kok has written a definitive resource detailing the key essentials in becoming a more caring person in his latest book, "The Miracle of Kindness" (available on Amazon.com, in either paperback or Kindle edition.) A handful of basic tools —wrapped in courage—are the secret to changing the world through intentional acts of kindness.
As the Koach Of Kare, Dr. Kok has been a pastor at the
Crystal Cathedral for the past 28 years and heads the Care Ministry department of the church. He is the author of six books and numerous articles, and he is the founder of the
Conference on Care and Kindness.