In high school and in college, I was at the beck and call of everyone who wanted me to do something with them. I enjoyed reading and studying, but, if someone stopped by and asked me to go out for a hamburger, I usually dropped what I was enjoying and went along with them instead. Cramming for tests and catching up, as a result, was done in the wee hours of the mornings, or at other odd hours, when nothing much was going on in the wider social world. I paid a stiff price for my failure to set boundaries in my life.
There is much that needs to be said on this issue of boundary-setting. And, unfortunately, I speak from experience — there were too many times that I suffered, and relationships suffered, because I found it so difficult to say "no." My personal limit-setting skills grew slowly. I needed limits badly, but I only acquired them after many years of misspent time.
When I was a youthful Pastor of a church, Bert would come to see me on Wednesday mornings, once a month. He liked to come at 9:00 a.m., which seemed fine to me, but soon I realized that Bert set no limits, and I did not have the courage or canniness to do so either. He would arrive promptly at nine and stay a wearisome three hours, until twelve noon, when he was scheduled to meet his wife for lunch. After this happened two months in a row, I finally got smart — I told him on the phone I couldn't see him until 11:00 a.m. He reluctantly agreed, and his noon lunch appointment set the
cut-off time.
I had found a tricky way to install a boundary and to protect my time. But I lacked the courage or wisdom to do it properly. Setting a limit is often contradicting our inner urge to helpfully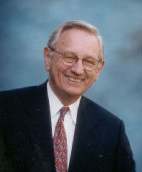 Dr. James R. Kok has written a series of articles on the essentials for a caring person. A handful of basic tools—wrapped in courage—are the keys to open doors.
As the Koach Of Kare,
Dr. Kok has been a pastor at the Crystal Cathedral for the past twenty years and heads the Care Ministry department of the church. He is the author of five books and numerous articles, and he is the founder of the International Conference on Care and Kindness.