My Journey
Through Breast Cancer
—— Linda Kok
Editors Note: The testimony below by Dr. James Kok's wife contains many references to how the principles of Care, of Kindness, and of Support, as taught by Dr. Kok, make a difference in one person's life. You might use it as a case study and see how many elements of Care and Kindness you can identify.
---
Have you ever wondered how your Christian faith would help you in times of crisis? I often did. The answer came through the strong unwanted challenge of breast cancer in 1996. My first reaction to the diagnosis was shock and disbelief because I felt so healthy, and I had religiously gone through the mammogram process. But the doctor confirmed what only the ultra sound revealed, that each breast had malignant tumors. Furthermore, because of their types, a double mastectomy was the highly recommended solution. This was confirmed by other doctors and my unwelcome journey was underway. But help from many directions quickly rallied to my side.
First of all, my strong, supportive Christian husband stood by me every step of the way. He entered into my experience as fully as he could and was with me
for the seemingly endless rounds of appointments and tests. He informed family, friends, prayer chains, answered phone calls and continued to love me in every way as he had previously.
Another boost came from the principal of the public school where I teach. She is a Christian and she told the staff about my ordeal and she let them know I was a strong Christian. Somehow this helped me to know the Lord was with me during this time. Of course she asked the staff to pray for me.
Prayer chains at the Crystal Cathedral and all over the country sent word they were praying for me. I felt these prayers. They created a sense of calmness that this was all in the Lord's Hands. Although I was nervous and uncertain about the future I knew that my life was a gift of God and when it ended He would take me home. I have always believed this. It was a great comfort, even thought I desperately prayed this was not to be the time.
Finally the day for surgery arrived, Good Friday! Though all alone in surgery my husband, family and about 20 church staff, members and friends gathered in the Hospital Lobby to wait and pray for me. What a blessing! Their presence lifted and carried me.
When I came to, groggily, after surgery, in the Recovery Room, I was in excruciating pain. I called, as best I could, to the nurse on duty and begged for medication. But she was overly busy and brusquely replied, "No pain medication yet!" As I lay there with ripping agony across my chest, an uplifting thought floated through my mind. Simply this: "Positive Prayers and Praise." As that unusual phrase filtered through my consciousness, to my amazement, my pain ceased. About every five minutes, in that first difficult hour of recovery the pain reoccurred and each time my thought, "Positive Prayers and Praise" flowed back in to totally erase the pain. This was God's way of reassuring and comforting me. I also interpret it as a mysterious benefit of the prayers underway at that moment and the many years of hearing and trusting Christian messages. It seemed miraculous to me.
Finally I was taken to my room. There the first word I heard were warm and kind (so different from the recovery nurse.) I instinctively reached out to touch this new friend. To my surprise she said she knew me — she was from our church, the Crystal Cathedral. It seemed impossible. Another miracle? She cared like an angel — kind, comforting, loving and caring. During my three day stay she always looked out for me and made sure I had the best nurse available when she wasn't on duty. She was a gift from God, named Katy Crane.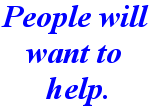 Flowers, cards, gifts flowed in, all expressing their love and prayers for recovery. How they helped! Each added something to lift my spirits. I was overwhelmed with a feeling of love and peace. Arvella Schuller wrote, "Linda, you have give to others so much. Now it is payback time. People will want to help. Let them and enjoy it!" How true and helpful were her words.
When I went home my family and friends were there for me again. Two sisters came to help so my husband could go back to work. Believe it or not I was back in the classroom in five weeks teaching kindergarten full-time. How blessed I was! The loving kindness had picked me up in a big hurry.
Six weeks after surgery I started chemotherapy. Mine was given every three weeks for a period of six months. Chemo was administered Thursday afternoons at the end of a day of teaching. Then I'd rest Friday and the weekend and be back to work on Monday. I felt some fatigue but nothing that hindered me from living a fairly normal life. My hair got thin so I purchased several wigs, which proved a very positive solution. When chemo was finished, breast reconstruction began. This was a five-month process. Quite uncomfortable at time but definitely worth it!
As I look back on that year and half period, I find that neither my husband nor I remember it as a nightmare or terrible ordeal. Of course we wouldn't choose to go through it again but during it all we continued to enjoy our lives. Constant prayers, encouragement, cards, and gifts of flowers and food from friends bolstered our feelings of optimism and hopefulness.
Now, several years later, with a 90% survival prognosis (which I translate as a 'sure thing'), I continue to praise and thank the Lord for good health, a great head of hair, strength, wonderful friends and family, God's continuous care. Positive faith and an actively caring church community have provided me with the resources I had hoped for in time of crises. I thank God and All His People!

Return to Care Capsule Front Page