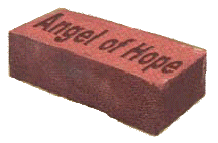 Remembrance Brick Order Form
One of the most prized features of the Angel of Hope is the
Remembrance Bricks that cover the ground surrounding the Angel.
These bricks are inscribed and laid for families who choose to
honor their child with a physical & lasting tribute.

With a donation of $100.00 or more you can personalize a brick for your loved one.
Each brick allows for 3 lines of engraving with 20 characters allotted per line.
Note:  Brick orders take up to 12 weeks to process.
Row #1: ______________________________________________________
Row #2: ______________________________________________________
Row #3: ______________________________________________________
Donated by: ___________________________________________________
Address: _____________________________________________________
City, State, Zip: ________________________________________________
Phone Number: ________________________________________________
Email: _______________________________________________________
Make check payable to:
GISOC, Angel of Hope Fund
(Guild for Infant Survival, Orange County)
Print this form. Fill in the information and send it with your payment to:
GISOC
Angel of Hope Fund
P.O. Box 148
Tustin, CA 92781